DIRECT STONE SUPPLIER
FOR FOUR AND FIVE STAR HOTEL PROJECTS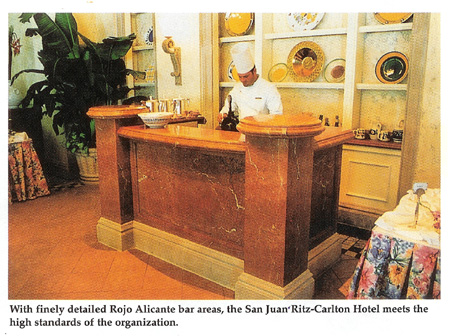 RKW International, Inc.
has provided materials for a multitude of projects, both large and small. Projects have been supplied and/or installed throughout the continental United States and in Hawaii, Hong Kong, Australia, Mexico, and Puerto Rico. RKW supplies stone materials for flooring, cladding, exterior cladding and site work, pavers, fountains, signs, countertops, tabletops, vanities, elevator surrounds and many other customized applications. Our work can be simplistic or extravagant, exotic or intricate. The goal of RKW International is to provide expert and professional services to meet the needs of contractors, architects, interior designers and developers. We maintain the highest standards of quality services. We also provide complete shop drawings and technical support relating to the installation of all types of stone materials.
RKW's clients have included Ritz-Carlton, Marriott, Hilton, and Westin Hotel companies. In Atlanta, RKW has worked extensively with major contractors, and we have supplied and installed tile and stonework in many exclusive homes, offices, condominium projects, town homes and restaurants in the Atlanta area.
Much of RKW's experience in the stone industry has been achieved by supplying and installing marble, granite, and limestone materials in numerous Ritz-Carlton Hotel stone projects throughout the world. RKW also represents fifteen fabricators in Portugal, Spain, Italy, France, Greece, Turkey, Mexico and China. RKW International has been involved in more than thirty-six Ritz-Carlton hotel projects since 1986, and for each project awarded has supplied on time and within budget.
Of the projects not initially awarded to RKW International, our services were later requested and utilized on a consulting basis to assist and rectify situations with the stone work for hotel projects in Cleveland, Ohio, Pentagon City, Marina del Rey, California, and Double Bay, Australia. RKW International's expertise enabled the general contractors of these projects to resolve complications and problems encountered with the supply of substituted and/or inferior materials from the "low-bid subcontractor".
For three additional Ritz-Carlton hotel projects, located in Mauna Lanai, Hawaii, Hong Kong, and San Juan, Puerto Rico, RKW International was subsequently awarded the marble supply contracts upon the default of the subcontractor originally selected. RKW International supplied the Calacatta marble for the guestrooms in the hotel in Hong Kong, the Calacatta marble for more than three-hundred guest rooms in the project in Mauna Lanai, and all of the marble for the public space for the project in San Juan, Puerto Rico.
Thus, RKW International has supplied materials for fifteen Ritz-Carlton Hotels. No supplier has successfully and consistently provided marble for numerous Ritz-Carlton hotel projects as has RKW International.
I have devoted nearly 20 years of research, travel and fabrication analysis to ensure that the supply of marble materials for projects is the very best. I personally create the marble take off, coordinate the sourcing of the materials, generate the estimate, coordinate and combine specified materials from various countries, submit the project material estimate, oversee the shop drawing and cutting ticket process, meet and coordinate with the interior designers, contractors and representatives on a regular basis to create the approved marble range control groups, and finally, I match each fabricator best suited for a particular element of the project with that specific element. In short, I am a direct supplier, capable of completing every aspect of the supply of marble materials. I do not use an agent or broker. From 1986 to 2005, total sales exceeded $50 million in stone products.
During the material procurement process, I inspect and approve the quarry blocks to be purchased, oversee and inspect the polished slabbing process, coordinate the fabricator's production process, inspect the entire fabrication production process, and then personally inspect nearly every shipment of material to be shipped to the project. I have made over 90 trips to our European factories. I also arrange and manage the shipping and delivery process and inspect the materials upon arrival at the job site.
There is no other marble supplier that provides this type of comprehensive, complete and personal management system, as does RKW International. No other supplier offers the level of personal dedication that RKW International does. For the past twenty years my entire business career has been devoted to supplying first quality stone. RKW International and I will deliver the best marble and granite at the best price. (For a list of projects supplied by RKW click here)
During 2005, RKW will supply and install stone for major condominium projects in Atlanta and other cities in the Southeastern United States. We welcome the opportunity to provide our expertise and first quality stone for your project.
Sincerely,

Bob Welton

Bob Welton
RKW International Corporation